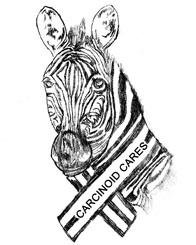 ---
Carcinoid Cancer Foundation


We've built this site to include the most comprehensive and up-to-date repository of information about carcinoid and neuroendocrine tumors.

NET Cancer Day


Was formed in Berlin on March 10, 2010. We are an independent group whose aim is to raise awareness about neuroendocrine tumors (NETs).

The Insurance Warrior


Laurie Todd
Don't spend months fighting your insurance company.

Reverse that insurance denial -- in seven days. Laurie's books show you how.

---
---
---

Zebras On ParadeConnecting Zebras & Resources to Improve Research
& Care for RARE & Complex Conditions

---
---
---
---

The intimate stories of those living with a poorly understood and rare cancer are shared in Maria Gonzalez's new book, But You Look So Good . . . . Stories by Carcinoid Cancer Survivors. Over 20 patient and caregiver stories explore how carcinoid and neuroendocrine tumor (NET) patients came to be diagnosed, many enduring years of symptoms and lack of a proper diagnosis or no diagnosis at all; surgical experiences; the challenges of living with carcinoid syndrome; the value of in-person and online support groups; seeking information about these rare diseases; what it's like for the families of patients; and hopes for the future.

AVAILABLE AT AMAZON .COM

Rare Illness & Cancer Awareness Inc

What are we about? We don't want to repeat what is already being accomplished.. more blogs.. another support group.The majority of the funding for Rare Illness & Cancer Awareness, Inc. will go toward equipment and testing.

---
---
---
Pan Coastal Hematology Oncology

Dr. Kun Frank Lu, M.D., PhD
2417 Jenks Avenue
Panama City, FL 32405
Phone: (850)215-5300
Fax: (850)215-5398



---

WoW MoM
A documentary about Cancer and Gaming


Lauren Fash is producing a documentary about a grandmother who uses World of Warcraft to cope with her life-threatening cancer. You can read more at the website

---